Former NBA player John Amaechi's appearance on ESPN's "Outside the Lines" has been moved up to this Sunday at 9:30am ET.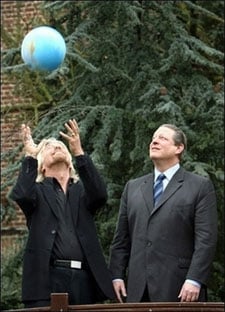 Al Gore planning day of Global Warming concerts around the world that would dwarf Live Aid: "Organisers of the event, scheduled to take place on 7 July, hope to amass a worldwide television audience of two billion people in order to present the message about global warming. The series of co-ordinated concerts in seven cities – London, Washington DC, Shanghai, Rio de Janeiro, Cape Town and Kyoto – is expected to be announced today by the former American vice-president Al Gore, who is now a figurehead of the campaign against climate change. Promoters of the event, which will be branded "SOS", yesterday promised that the line-up of artists – likely to include U2, Coldplay and the Scissor Sisters – will "dwarf" those amassed for Live Aid and its successor, Live8. Venues for the London event are still being discussed but the shortlist includes Hyde Park and the new Wembley stadium." Gore has also teamed up with Richard Branson to offer a $25 million prize to inspire innovators in the private sector to compete in combating climate change.

Fundraiser for gay hip-hop Homorevolution Tour to go down this weekend in Long Beach, California. Organizer Deadlee: "I enjoy the political side. I want to be a revolutionary in homo rap. Homo rap is fresh. It comes from a different place. There's a struggle in it. Coming out is still tough for a lot of blacks and Latinos. There's still a lot of hate at us for being gay."

Howard Dean still not winning LGBT hearts and minds.

Anna Nicole: Death of a pop culture icon takes media by storm.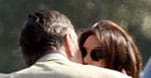 Teri Hatcher caught in liplock with George Bush the elder.

Donatella Versace tells Hillary Clinton to ditch the pantsuits: "I can understand (trousers) are comfortable but she's a woman and she is allowed to show that. She should treat femininity as an opportunity and not try to emulate masculinity in politics. I admire her for her determination, which will hopefully take her to the White House."

Amsterdam Pride to feature canal boat for 11 to 16-year-olds: "A 14-year-old Danny Hoekzema came up with the idea and has conducted an Internet campaign to drum up support for his campaign, and says he has already found around 10 participants for the 30-place boat. Gay Pride organizers had said that it would be kept well away from more 'provocative' boats parading along the Dutch's city's canals and that the youngsters would be joined by their parents on board." Academic support threatened…

World's largest sperm sighted in Louisiana.