A Staten Island pastor has petitioned the U.S. Supreme Court over anti-gay billboards he erected which local borough officials said "conveyed an atmosphere of intolerance…not welcome in our borough." The pastor, Rev. Kristopher Okwedy, says that his First Amendment rights were violated: "It's a freedom-of-speech issue. It's not an attack on anybody. I want to be able to speak what I want, when I want. To restrict what people say in this country would compromise liberty."


Residents of West Hollywood's Dicks Street remain firm on keeping street name. Background…

Report: T.R. Knight and P. Diddy exchange words after Diddy's security detail boots Grey's cast from seating area at pre-Grammy party: "Puffy was supposed to sit in the same VIP area that had four tables – two were for him and two were for the 'Grey's Anatomy' cast. But he was very, very late, and there are a lot of 'Grey's' castmembers, so T.R., Kate and Sara were at a table set up for Puffy. This guy goes up to T.R., Kate and Sara and started demanding – 'Get out! Get out now! Move it!' – T.R. was furious…"

Targeting new recruits, Toronto police plant themselves in the gay village. Constable Gail Steed: Our service wants to reflect our diverse communities in the city. We don't ask anybody to tell us their sexual preference, we just strive to get an accurate representation of the city."

What's up Doc? New hi-tech material for use in warships, autos, and engineering components is made from carrots!

Ontario, Canada's first openly gay cabinet minister George Smitherman has announced he'll wed his partner this summer.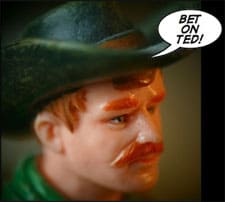 Ted Haggard Betting Pool formed to wager on how soon the now "completely heterosexual" pastor of New Life Church will fall off the wagon.

Unmoderated social networking tool at Barack Obama's campaign website leads to display of anti-gay, racist slurs.

Happy Birthday Abraham Lincoln. But was he gay?

Anna Nicole's depressing diet: Slim-Fast and Methadone.

Beatles catalog headed to all major music download services. Yellow Submarine iPod rumored…

Rather than suffer in silence, gay retirees now fighting for their rights in court: "We have a responsibility to fight, both for ourselves and for the gay men and lesbians who are a generation above us who feel too afraid to say who they are."