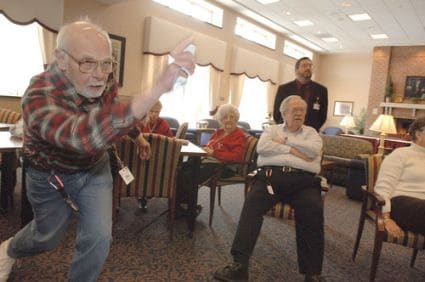 This is hot. Nintendo's Wii is making video game converts of the elderly.
Nintendo took the Wii to an AARP convention, says Perrin Kaplan, VP Marketing & Corporate Affairs for Nintendo of America: "The AARP thing was a little bit tough at first. They were like, 'We don't really want to talk to you because we're all grandparents and we already buy stuff for our kids,' and so we said, 'No we want to talk to you about you. It took several attempts for them to finally say, 'So why do you want to talk to us?' And it's because we have products for them as well now."
The seniors weigh in:
72-year-old Flora Dierbach: "I've never been into video games, but this is addictive. They come in after dinner and play. Sometimes, on Saturday afternoons, their grandkids come play with them … A lot of grandparents are being taught by their grandkids. But, now, some grandparents are instead teaching their grandkids."
Don Hahn, 76, a veteran of numerous real-life bowling competitions: "This is pretty realistic. You can even put English on the ball. I used to play Pac-Man a little bit, but with this you're actually moving around and doing something. You're not just sitting there pushing buttons and getting carpal tunnel."
I bet golf's a hit too.
(via gizmodo)
You may have missed…
Wii Approve [tr]