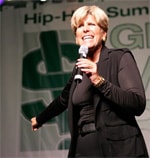 Americablog reports that financial guru Suze Orman comes out of the closet in the New York Times magazine this Sunday:
"Orman says she 'has a relationship with life,' so [Deborah] Solomon presses her, and Suze then reveals that her 'life partner' is Kathy Travis and, 'We're going on seven years. I have never been with a man in my whole life. I'm still a 55-year-old virgin.' Orman says they'd like to get married, and both 'have millions of dollars in our name. It's killing me that upon my death, K.T. is going to lose 50 percent of everything I have to estate taxes. Or vice versa.'"
UPDATE: Here's the interview.