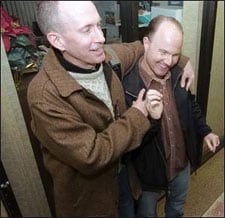 Hundreds of gay and lesbian couples who had married or joined in civil unions in other states immediately had their unions recognized by the state of New Jersey on Monday. Some couples raced to government offices for the opportunity. For Steven Goldstein, chairman of the gay rights political group Garden State Equality, and Daniel Gross, his partner (see video below) , the move was largely symbolic. Said Gross: "This was really all about receiving a piece of paper that had some recognition of our status." The couple had married elsewhere and were therefore were recognized instantly on Monday:
"Goldstein, 44, and Gross, 36, had a Jewish wedding in Montreal and a civil union ceremony in Vermont in 2002. The wedding came before Canada allowed gay marriage, so it doesn't come with any legal standing, though the civil union does."
Goldstein and Gross were the first to have a ceremony, held in the office of Senator Loretta Weinberg.
Goldstein has promised to push for marriage equality in the state and has expressed optimism that a next step is not far down the road. "Civil unions are like a song with the words but without the music," he told the Asbury Park Press. "Our goal is marriage for gay couples. We do see that on the horizon in the next two years or less through legislation."
In Asbury Park, six same-sex couples applied for civil union licenses on the first day, five between 12 midnight and 1am. Thomas Mannix and Kevin Pilla (top photo) were among that group. They won't be able to participate in an actual ceremony until Thursday morning when the law takes effect for those not previously "unioned" elsewhere.
Said Mannix: "It's a second-class status. It doesn't have the same weight."
Richard Clayton, who applied with his partner Ron Fleckenstein, had a difference of opinion: "It's a big step. I don't find it insulting that it's not called marriage."
Garden State Equality will be holding a free Countdown Supper on Wednesday night at the Brick Wall restaurant in Asbury Park.
N.J. civil union laws goes into effect with gay couples vowing to keep pushing for marriage [ap]
Bells will be ringing [asbury park press]
Gay couples get licenses in N.J. [ap]