I'd like to extend a thanks to those companies and individuals that keep this site going by advertising with us or making a donation for a T-shirt.
Supporting our advertisers supports Towleroad. I thank you all for reading.

Dogster: a network for men and dogs that make you go Woof!


A meeting place for jocks and the athletically-minded: Real Jock.

Island House Key West. Make the tropics your destination this winter!


Never has the DList been so appealing: Guys, music, blogs, parties.


Australia's hot, informative, and irreverent gay magazine DNA.


Bravo's Top Design: Interior Designers compete in your living room!


Stunning male physique photography from Dylan Rosser.


Premium personals for less than $4 a month at Gay.com.


Laser Hair Removal: Are you ready to go smooth?


Absinthe: Warm up this winter with the mysterious, hallucinogenic liqueur.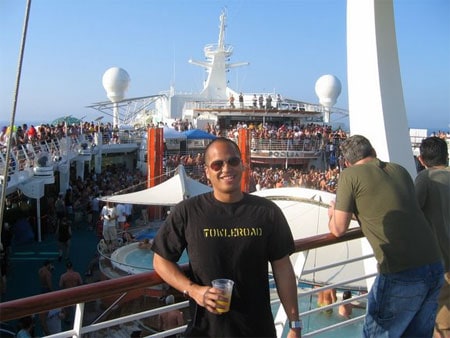 And special thanks to our reader Scott for sending in this great shot from his cruise! I love receiving photos of readers in the Towleroad "T", so if you have one, send them in! And thanks so much for the support, guys. If you've sent in for one recently and haven't received it yet, I have a bunch going out in the mail soon.