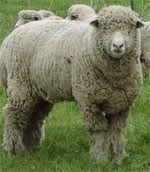 Troy, a gay sheep, has spoken:
"At long last, I found the strength to come out to my family, my friends, and even my co-workers, to say right out loud, I'm Troy and I'm gay, but I hope that isn't the most interesting thing about me. I'm just like you: I like to stand around in the rain and get caught in barbed wire and defecate while I'm asleep. And the amazing thing was—it was no big deal. Everyone nuzzled me, and my mom said that deep down she'd always known, and that she'd hoped that I'd grow up to be an artist or a performer or a cashmere crewneck. Of course, Little Bo Peep, my shepherdess, got a little teary at first. 'Are you sure?' she wondered. 'I mean, you're so masculine.' And I informed her that being gay doesn't mean you have to act like a hummingbird or a Chihuahua. And then she asked, very confidentially, 'Is it true about Elsie the cow? And Ellen?' And I just rolled my eyes and said, 'Darling.'"
Check out the rest of Paul Rudnick's hysterical monologue, Sheepish.