Maria Carreon Lara, 39, and Amparo Maldonado, 24, of Midland, Texas became the first international couple to register for a civil union in the northern state of Coahuila, Mexico, since they became legal in January. The couple, who have been together for five years, are of Mexican descent and performed the ceremony just over the Texas border in Ciudad Acuna.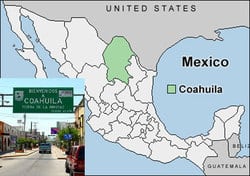 According to the Associated Press, "Nonresidents can register under the law, which provides gay couples with social benefits similar to those of married couples, if they are in Coahuila legally. It is unclear if the union will have any legal standing in the United States."
On February 1st, a pair of Mexican lesbians became the first couple to take advantage of the law.
Lesbian couple from Texas registers for civil union in Mexican border state [ap]