On Wednesday night, Former Miami Heat player Tim Hardaway's astonishing flippant response to comments he made regarding gay people following John Amaechi's coming out only served to further fuel the public outrage that was building. Said Hardaway: "There are more important things to worry about than my comments. We should be more concerned about President Bush and all the people dying in Iraq."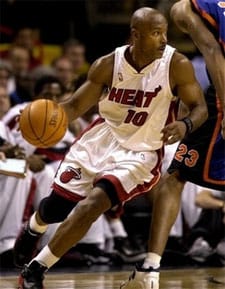 Huh? Hardaway has since felt the pressure to issue a more contrite statement. On Thursday, he issued the following apology through his agent Henry Thomas:
"As an African American, I know all too well the negative thoughts and feelings hatred and bigotry cause. I regret and apologize for the statements that I made that have certainly caused the same kinds of feelings and reactions. I especially apologize to my fans, friends and family in Miami and Chicago. I am committed to examining my feelings and will recognize, appreciate and respect the differences among people in our society. I regret any embarrassment I have caused the league on the eve of one of their greatest annual events."
Following Hardaway's initial remarks on Wednesday ("I hate gay people. I let it be known, I don't like gay people. I don't like to be around gay people.") the NBA canceled an "NBA legend" appearance by the former point guard at the YMCA of Southern Nevada as well as his participation in events surrounding this weekend's All Star game in Las Vegas.
Hardaway has also been dumped as spokesman for Baldguyz, a company that makes grooming products for bald men, according to the Miami Herald. Said their CEO: "BaldGuyz, like baldness, does not discriminate based on lifestyle choice, color, education, financial resources, religion, physical capabilities or in any other way."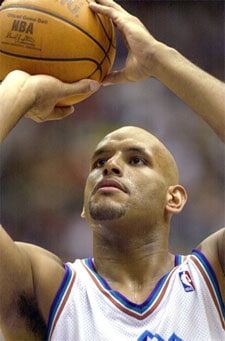 Meanwhile, John Amaechi continues to react to the incident with restraint and eloquence. Here are some of his recent comments to the San Francisco Chronicle:
"It's not my place to get in the way of someone's relationship with God, with their God. That is their belief. However, if what you are actually talking about is Biblical literalism, and if that's the case, then I expect people who spout vitriol about gay people to have the same ire as they regard players who have guns under their seats, who smoke marijuana, who commit adultery…
…I think that the truth of the levels of homophobia in society sometimes have to be highlighted by some kind of car crash, and that's what this is. He's stopped people from saying some of the things that I've heard, you know, "Shut up, because there's no issue. There's no need to talk about this, there's no problem. There's no homophobia." I find that ironic in the greatest extent in a country where in 33 states you could be fired for being gay…
…One of the most important things throughout history that we know is that the furtherance of causes for minorities has been sponsored not only by the great efforts of the minorities themselves, but also by the fact that people from outside that minority group would stand shoulder to shoulder (with them). People who stood next to black people during emancipation, during the fight for equal rights were considered very progressive and bold and brave. … The problem we have in the gay community is that people who stand next to them are considered gay. It makes them quiet."
Hardaway very slow getting back on defense after airball [sf chronicle]
Hardaway's gay bashing brings swift rebuke [miami herald]
You may have missed…
Former NBA Star Tim Hardaway: "I Hate Gay People" [tr]
Former NBA Player John Amaechi on Outside the Lines: I'm Gay [tr]