Two weeks ago I posted about Evangelical Christian and California County Clerk Freddie Oakley's intention to issue her own personal "Certificates of Inequality" to same-sex couples on Valentine's Day in protest of the state's ban on gay marriage. Oakley, who believes religion should be kept out of legal affairs, said she found it painful to deny same-sex couple the right to marry. On Wednesday, she issued 20 'inequality' certificates to same-sex applicants. Her efforts did not go unnoticed by camps on either side.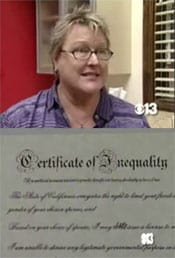 The Davis Enterprise reports:
"After the noon rush, many of the applicants stood in the clerk's office and serenaded Oakley with a chorus of 'For She's a Jolly Good Person.'

'Thank you very, very much, I appreciate it,' Oakley said.

However, as many protesters as supporters stood outside the administration building on Court Street.

Dick Otterstad of Placerville's Church of the Divide is as passionate a spokesman as Oakley, and very specific, attacking both Oakley and the First Baptist Church of Davis, of which she is a member.

He carried several signs including one that said: 'Pastor welcomes gay activist Freddie Oakley. Shame!'

Otterstad said any Christian church that does not publicly rebuke its members for advocating gay marriage should be named and shamed."
Seems to me the only punishment that should be doled out is to Christians that advocate hate.
You may have missed…
California County Clerk Protests Same-Sex Marriage Ban [tr]