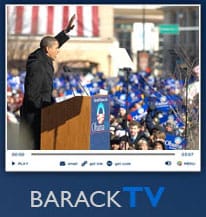 Presidential candidates for the Democratic party are hard at work in the early stages of building their campaigns. The latest web technologies and social networking features are no small part, making candidates' websites the central hub of their entire campaign. So which Democratic candidates are the most web savvy?
John Edwards may have run into a bit of trouble with some of his writers, but his blog is not one but many ongoing streams of information, with a number of writers for the Edwards campaign contributing to the "straight from the podium" section, and user contributions posted to the "open mic" section. Audio, video, and photo blogs are also included, and Edwards has a page on all the most popular social networking sites like MySpace, Facebook, and Essembly.
Chris Dodd offers to respond via YouTube to users who upload their video comments and questions about pertinent issues. He also posts the "Dodd Pod," a list of the music and podcasts that he's currently listening to on his iPod.
Barack Obama's website attempts to create its own social networking mini-site with my.barackobama.com. Promising that "this campaign is about YOU," the site allows users to set up a profile, choose friends, and upload content. The site also features Barack TV, a "channel" devoted to the campaign.
Who's falling short? So far, it's Hillary — Clinton's blog has yet to launch, and her "Action Center" seems to miss an obvious tie-in to the social-networking language with which many people online are already familiar.
Google has finally opened Gmail fully to the public, although it will still remain in "Beta" stage for now. The formerly "invitation only" free email service caused waves when it first launched in 2004, offering over 2GB of storage and promising that no emails ever needed to be deleted, only archived so that they can be later retrieved through search. In an effort to promote Gmail, Google recently posted its first ever commercials to YouTube.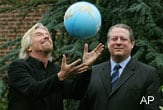 This week, on the one year anniversary of the start of the Kyoto Agreement, billionaire Richard Branson and Al Gore offered a massive prize for a massive project: the first technologist "who can come up with a commercially viable system for removing human-produced carbon dioxide (CO2) from the atmosphere" will receive $25 million dollars. The deadline is a wee 3 years away, but many scientists have been working to find such a solution for many years. "Most of the climate change that we'll see in the next 30 years will be
the result of emissions of carbon dioxide that are already in the
system," said Jim Walker, chief operating officer of the Climate Group.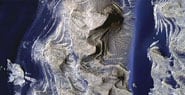 High-res images from a Mars orbiter show new evidence of water having existed on the red planet. "They show discoloured rocky ridges in the Candor Chasma, part of a huge
canyoned region at the equator called the Valles Marineris, the largest
geological rift in the solar system. The ridges are evidence of
chemical changes caused by a fluid – almost certainly water – as it
flowed down a fissure in the rock." The exciting new find suggests a likely place to start looking for fossils of simple organisms, which would prove that life existed — and possibly still does — on Mars.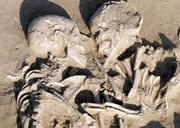 As a timely footnote to the recent day of love, National Geographic had a bit on their website yesterday showing two Stone-Age skeletons found near Verona. The article describes them as a couple who died while locked in an "eternal embrace." "It was a very emotional discovery," the head archaeologist told the
Associated Press. "From thousands of years ago we feel the
strength of this love. Yes, we must call it love." Noting, however, that all that is known about the pair is that they were young (based on their teeth), the article points out that they "could just as easily be two brothers." Yes, or there's one other possibility…
Daniel Williford is our TowleTech correspondent.

You can visit him at his blog, Until Today…