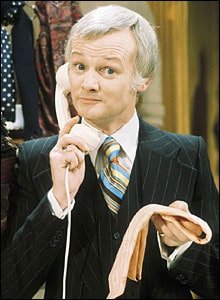 John Inman, famous for playing the camp salesman Mr Humphries in the British television show Are you Being Served?, died at St Mary's Hospital in Paddington, west London early this morning. He was 71.
Inman had suffered from complications due to his contraction of Hepatitis A in 2004. Since then, he had been hospitalized with serious illness at least two times.
Inman's partner of 35 years, Ron Lynch, was said to be "devastated" by the death of his loved one.
The Daily Mail reports: "Inman played camp salesman Mr Humphries in the comedy series Are You Being Served? for a decade from the mid-1970s to the mid-1980s. He starred alongside Wendy Richard, who went on to play Pauline Fowler in EastEnders, as well as Molly Sugden, Frank Thornton and Trevor Bannister. The actor had been with Mr Lynch for 35 years. The couple "married" in a civil partnership ceremony at London's Westminster Register office on Christmas Eve in 2005."
His manager Phil Dale said: "John, through his character Mr Humphries of Are You Being Served? was known and loved throughout the world. He was one of the best and finest pantomime dames working to capacity audiences throughout Britain. John was known for his comedy plays and farces which were enjoyed from London's West End throughout the country and as far as Australia, Canada and the USA."
I always loved Are you Being Served? when I caught it occasionally on American TV. This is a sad loss.