California Governor Arnold Schwarzenegger refuses to take a stand on same-sex marriage: "Some observers think his actions are aimed at safeguarding his conservative base. But the governor's confidants say the stance isn't calculated to duck political shrapnel. In fact, even the governor's close gay advisers disagree on the marriage debate. His allies believe his stance makes perfect sense for a man who cares more for the tangible — say, allowing domestic partners to file joint state tax returns — than the symbolic, even if it makes history."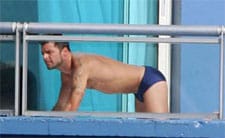 Ricky Martin offers a brief description of his assets.

Ann Coulter drops the "F" bomb a second time at church, to gasps from the congregation. She also "understands" how doctors who provide abortions get shot.

Historic Stonewall Bar reopening…

Fired apprentice Derek Arteta says Trump not homophobic: "He didn't know about me until we went to dinner at Spago and he asked about my wife or girlfriend, and I told him, 'I used to have a boyfriend.' It kind of threw him for a loop and I said, 'I'm gay, Mr. Trump.' And he said, 'Oh, so Ivanka does nothing for you?' I said, 'No, not really.' I was about to say, 'No, but Don Junior does,' but I decided that wouldn't be appropriate."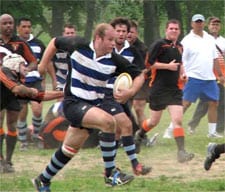 Irish thighs are smiling: 2008 gay rugby Bingham Cup to be held in Dublin, Ireland.

Justin Timberlake's mission to save Britney's career.

Anti-gay Baptist minister Lonnie Latham, whom I reported on early last year, has been acquitted of propositioning an undercover male police officer: "A judge found Lonnie Latham not guilty of the misdemeanor charge of offering to engage in an act of lewdness. If convicted, he would have faced up to a year in jail and a fine of up to $2,500. Latham, 61, was arrested Jan. 3, 2006, outside a hotel in Oklahoma City. Police had accused Latham of asking the undercover officer for oral sex, which Latham denied."

Key West quest: become gay spring break capital.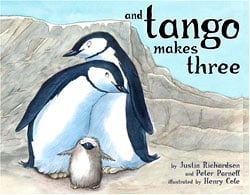 Justin Richardson and Peter Parnell's wonderful gay-themed children's book And Tango Makes Three tops American Library Association's 2006 list of most challenged books: "The ALA Office for Intellectual Freedom (OIF) received a total of 546 challenges last year. A challenge is defined as a formal, written complaint, filed with a library or school, requesting that materials be removed because of content or appropriateness."

Calvin Klein to release "technosexual" fragrance CK in2u.

You couldn't swing a Radar magazine at the Beatrice Inn last night without hitting a gay man.

More than 30 Vermont towns have passed resolutions to impeach President Bush.