A California woman was arrested, booked on suspicion of misdemeanor hate crime and misdemeanor battery and released after she drove by a gay couple in her van, rolled down the window, and threw fruit and vegetables at them while yelling the word "faggot". From the Examiner: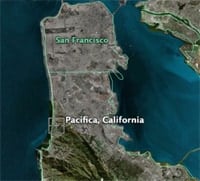 Tiffany Adler, 20, who works at a grocery store, was a passenger in a van in Pacifica on Sunday when she spotted a gay couple who frequent the store, according to police.

As the van drove by around 7:50 p.m. on the 500 block of Esplanade Drive, she allegedly rolled down the window and threw apples and vegetables at them, police said. Later, the van turned around and approached the couple again as she allegedly yelled the word "faggot" at them.
According to the police: "Her statement was that she wasn't aware that they were gay. She thought they were people that she had a prior conflict with."
Right. Had she just finished watching Hannity & Colmes?