A bit of an update on the Ken Hutcherson story that sprang up yesterday.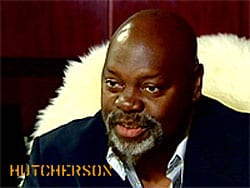 Gay Seattle attorney Dave Coffman has filed a complaint with the FBI, asking them to investigate whether or not anti-gay pastor Hutcherson violated federal law by claiming to be a White House "special envoy" on a recent trip to Latvia.
Hutcherson claims that the director of the White House Office of Faith-Based and Community Initiatives Jay Hein appointed him a "special envoy" for the Latvia trip, where he appeared with Scott Lively, an anti-gay religious right 'Holocaust revisionist' who claims that homosexuals were the cause of the Holocaust, was sanctioned by the White House. The trip was the centerepiece of a four-day anti-gay "crisis conference" there.
According to Eli Sanders of Seattle paper The Stranger, who spoke to an agent at the FBI, the agency does investigate claims that someone is allegedly representing themselves as speaking for the White House:
I just spoke with Special Agent Fred Gutt of the Seattle FBI office. He said his office doesn't comment on complaints unless they result in criminal charges. However, he spoke with me about section 912 of the federal criminal code:

"There are various federal laws regarding false impersonations that we do investigate, 912 being one of them," Gutt told me. "That certainly would fall under our purview… This statute, if someone decided to represent themselves as a representative of the White House, could be pertinent."
The Stranger also has an audio clip which Ivan Boryagin, a member of the Latvian church that Hutcherson was visiting, says is Hutcherson speaking on behalf of the United States. Hutcherson continues to claim that there is video proof that he was sent by the White House.
You may have missed…
Anti-Gay Pastor Claims White House Appointed Him 'Special Envoy' [tr]