A former assistant accountant for Fremantle Media, Magdaleno Olmos, claims in a new lawsuit that former American Idol contestant Mario Vasquez stalked him, following him into a bathroom on the show's set where Vasquez then masturbated in front of him and propositioned him for oral sex.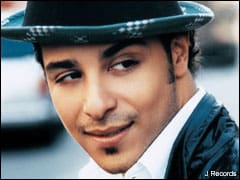 According to documents obtained by TMZ, "In the lawsuit, Olmos claims 'Vazquez stared lasciviously, smiled lasciviously … and on one occasion followed him into a bathroom … knocked on the door of the plaintiff's stall and made eye contact through the space in the stall door.' The lawsuit alleges that Vazquez 'started to rub his genitals over his pants. Attempting to leave the bathroom, Olmos opened the door of the stall and saw Vazquez standing in front of him with his pants down masturbating.' According to the documents, Vazquez pushed Olmos 'further into the stall and continued masturbating with one hand and trying to pull down Olmos' pants with another hand.' Olmos claims that he tried to 'cover his body with his hands' but Vazquez touched his 'chest and stomach underneath his shirt, and Olmos' 'genitals" as Vazquez 'attempted to unzip' Olmos' pants. Vazquez then allegedly asked Olmos 'if he wanted oral sex.'"
Olmos claims that he was terminated by Fremantle Media after reporting the incident to one of his superiors. Fremantle and FOX entertainment are also named as defendants in the lawsuit.
Vasquez left the show, citing "personal reasons", shortly after the alleged incident took place. He has not spoken publicly about his sexuality.
"A.I." Contestant Accused of "Masturbating" in Suit [tmz]