Los Angeles fertility clinic opens, catering specifically to gay males who want to become parents. Director: "There are a lot of centers that dibble and dabble in this. But we are the only program for gay men that has psychological, legal, medical, surrogates, donors and patients all taken care of in one place. The demand is incredible. The United States has always been busy but we are seeing more and more demand from abroad."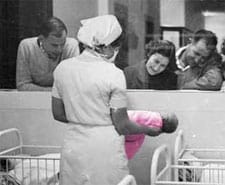 Radar asks: Is your baby gay?

Anderson Cooper's report on Thomas Roberts' sexual abuse at the hands of a gay priest had one glaring omission: "While it was unquestionably courageous for the man to speak so candidly about his sexual abuse at the hand of the family priest as a teenager, there seemed to be a glaring absence in the discussion: namely, about how Roberts, as an out gay man, has been affected by the abuse as a grown, sexualized adult…the fact that Roberts is an openly gay man and was the victim of an ongoing sexual assault by another man (and the fact that the other victim, Goles, is also gay) can very easily lead to a cause-effect conclusion in the minds of viewers (i.e., if you are molested by a priest, you will be gay; if you are a gay adult, it is likely because your sexual development was interrupted by same-sex abuse). This interview would have been a fantastic opportunity to address these misconceptions (which are already rampant) and put them to rest."

Equality Florida leader Nadine Smith talks about her brutal arrest at the hearings for Largo city manager Steve Stanton: "The hatred expressed by the mob, the fury that surrounded his dismissal that night by those who justified themselves by invoking God is a frightening and public example of what happens to LGBT people all the time but rarely with such visibility. Largo is a wake up call to those who believe quietly in equality. In your silence, the mob speaks for you and takes your absence as license to systemically ignore the civil and human rights of LGBT people."

Gay children's books under fire in Great Britain: "It is being argued that the books, one of which is a fairytale featuring a prince who turns down three princesses before falling in love and marrying a man, are necessary to make homosexuality seem normal to children. Fourteen schools and one local authority, backed by teaching unions and a government-funded organisation, are running the controversial scheme, which has been attacked by Christian groups."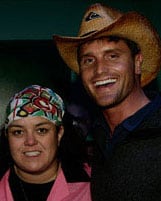 Rosie and Reichen bowl for gay families.

Clinton, Obama, Edwards vie for gay votes: "Mrs. Clinton has stiff competition in her pursuit of influential gay Democrats. Unlike the election of 2004, when Howard Dean had the distinction of having fought for a civil-unions bill when he was governor of Vermont, the three leading Democratic candidates have virtually identical stances on the most visible gay issues. (Barack Obama, John Edwards and Mrs. Clinton are uniformly in favor of lifting a ban on gays openly serving in the military, but are all opposed to gay marriage.)"

Arkansas Senate says "no" to gay foster parents. Senator Jim Argue, (D-Little Rock): "It really bothers me when I feel like we've made choices that are based on prejudice and fear. There is absolutely no evidence that this bill is in the best interest of children."

France's high court rejects first gay marriage: "Stephane Charpin and Bertrand Charpentier were married in a civil ceremony on June 5, 2004, in Begles, a town in the southwest Bordeaux region. The government immediately said the union was outside the law, and a series of court decisions unfavorable to the couple followed."