Tim Hardaway tells the Miami Herald's Barry Jackson that he'd rather "go straight to [a gay organization]" than attend "sensitivity training" for his remarks, and notes that the impact his anti-gay comments had on his business dealings "hurt the most". He says he wants a second chance.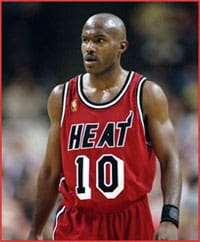 Said Hardaway: "People have been trying to kick me when I'm down. [The reaction was] very, very shocking. People saying my wife left me — that's not true. My family is OK and my finances are OK. I'm looking for a second chance and trying to clean up my image. I haven't been in trouble with drugs or guns. I'm an upstanding citizen. Like I told my children, life is not easy. This is a big bump I have to overcome. I'm going to deal with it like a champ. I've got to make sure people know I don't hate gay people."
Hardaway also said that a meeting he had with NBA commissioner David Stern was "encouraging and very positive." He attended a Heat game last week and is attempting to get back in the good graces of head coach Pat Riley.
Riley says he has left the door open to that possibility: "We are a country and city that forgives. I'm going to reach out to him, but he's got to admit if there's a problem, he's got to fix it..I think people who know Tim know he's a good person."
Hardaway made headlines in February when he told a Miami radio host, "Well, you know, I hate gay people. I let it be known, I don't like gay people. I don't like to be around gay people. Yeah, I'm homophobic. I don't like it. It shouldn't be in the world, or in the United States. So, yeah, I don't like it."