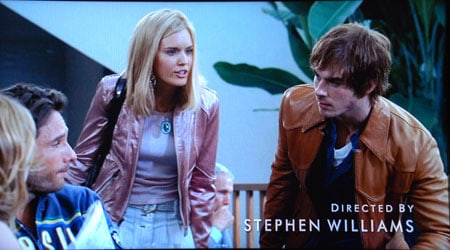 I haven't given up on Lost yet.
The show often drops in details to the plot that are enigmatic in terms of their relationship to the rest of it, like a tiny blink-and-you'll-miss-it line of dialog from a flashback scene in last night's episode that pretty much confirmed the fact that Boone (who was killed off in a previous episode) is gay.
As Shannon and Boone approached Paolo, Shannon quipped: "If you quit flirting with random guys, maybe we could actually get on the plane."
If you'll remember, in episode 12, Shannon tossed off another jibe regarding Boone's relationship with Locke in the jungle: "What are you doing out there…is he your new boyfriend?"
Why the new details on Boone's sexuality? What does it all mean? Now that's the $64,000 question, isn't it?