As a sixth paper drops Ann Coulter's column, the AP wonders if she's reached a tipping point.

Madonna to guest star on Nip/Tuck, possibly opposite Rosie O'Donnell.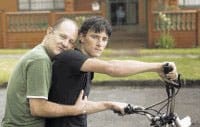 One of the first gay couples to register for a civil union in South Africa, Richard Thornton and Andries Jacobs, have filed for divorce: "Barely a month after a chance encounter in a West Rand shopping mall, they exchanged rings and vows of fidelity on January 5, one of the first same-sex couples to be married in South Africa under the then newly enacted Civil Unions Act. Ironically, they could become the first divorced under the legislation. Just two months later, the marriage has crumbled and 52- year-old Thornton has filed for divorce on the grounds of irreconcilable differences and desertion. Jacobs, 20, packed his bags in the dead of night just weeks into the marriage as arguments over coming home late and overpossessiveness escalated."

Hilary Duff hits the gay bar circuit.

Beckham impostors attempt to crash Hollywood power lunch spot The Ivy. This time they weren't hawking fragrance.

Priest in Saskatchewan cut from church for performing gay marriages. Rev. Shawn Sanford Beck considers his position an act of civil disobedience: "I felt unable to say no to those requests. That goes against everything else I'm about in my ministry and everything else that the church stands for…I have no desire to get myself off the hook. I'm trying to send a very strong message to the gay and lesbian community, and to other communities that have been alienated from the church, that we don't all think the same and there are people willing to go to the wall."

House conservatives attempt to neuter global warming committee by appointing chief climate skeptic.

Ford Motor Co. said that American Family Association had nothing to do with their decision to cut ties with GLAAD Media Awards.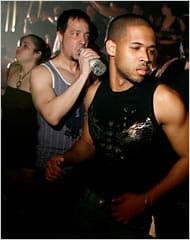 Roxy R.I.P. – a New York Times obituary.

David Mixner's requiem for the Clinton era: "Today, the Clintons run the political machine trying to save the status quo in the Democratic Party. Their fundraising operation is notorious for its ruthlessness and elitism. Their circle of advisors and friends are tough and aggressive with anyone who refuses to pledge allegiance. They are surrounded by money collectors like Terry McAuliffe who shakedown donors with warnings that they will be punished if they give to another candidate. Senator Clinton's position on the Iraq War is by far the most calculated of any candidate. And on so many other issues, her positions are measured and break no new ground. Each appearance is predictable and perfectly arranged. Whether by necessity or choice, the spontaneity, exuberance and hope we saw in both of the Clintons in 1992 is gone."

Sick mugger attacks 101-year-old woman in Queens.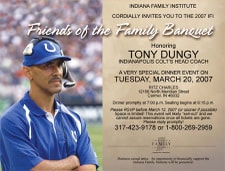 Indianapolis Colts coach Tony Dungy back under the microscope for anti-gay Indiana Family Institute fundraiser. Colts release statement: "Coach Dungy's feelings on the importance of marriage and family are well known. He, of course, is free to speak to any group he wishes. The club does not take positions in political issues in which it is not directly involved. The Colts do not endorse any political or religious position taken by any group that any Colts employee decides to speak or lend his or her name to."

Utah Governor Jon Huntsman signs bill targeting gay-straight alliances. The legislation would allow school districts to ban them should they not "maintain the boundaries of socially appropriate behavior." According to the AP, "The new law has more than a dozen pages of regulations, including requiring parental permission to join a club, a faculty sponsor for the club, prohibiting students at another school from joining the club and submitting written materials to the principal within 24 hours after a meeting so parents can review them."