Tens of thousands gathered in Rome's Piazza Farnese over the weekend to rally in support of a measure that would give same-sex couples and heterosexual couples who are unmarried a broader set of rights: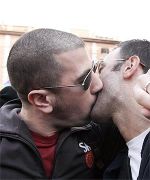 "The proposal would grant hospital visitation, inheritance and other legal rights to unmarried couples who live together both in heterosexual and same-sex relationships. Some rights, such as hospital visiting, would be granted immediately, while couples would have to live together for several years to be eligible for inheritance and other rights."
In a crowd reported by the BBC as more than 50,000-strong, protestors waved rainbow flags and some wore bishop's mitres painted with anti-Vatican slogans. Said activist Alessandro Zan: "It's a demonstration to unite and not to divide, and it's the biggest rally ever held in Italy to demand a law on civil unions."

The Italian government has been seeing increased pressure from the Vatican to limit the rights. The draft bill was approved in February by Italy's cabinet but an ongoing battle in Parliament over the issues will make it a tougher sell there.
According to the AP: "Opponents of the measure, including pro-Vatican politicians, said they would organize a "family day" rally in coming weeks against the proposal. The issue has divided Premier Romano Prodi's coalition government, whose smaller partners include Christian Democrats and Communists. A Christian Democrat Cabinet minister refused to vote on the measure, while far-left members of the coalition, including Communists and Greens, have been vigorously campaigning for its passage."
Said Socialist Deputy Enrico Boselli: "I believe that this battle is part of a larger fight to bring about a secular state." (video)
You may have missed…
Italy Approves Draft Bill Giving Legal Status to Same-Sex Couples [tr]
Gay Barbie Nativity Raises Stink at Italian Parliament [tr]