A 21-year-old man from Bayonne, New Jersey was followed off the PATH train in Hoboken and attacked by two men who had been harassing him on the train for, among other things, wearing pink pants.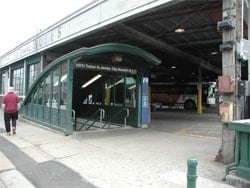 Police are calling the attack an anti-gay hate crime, according to the Jersey Journal:
"When the train pulled into the Hoboken station, the two men followed the Bayonne man off the train and up the stairs, then attacked him near a newsstand on the concourse in Hoboken Terminal, police said. The man required 12 stitches to close facial wounds, police said, adding that he also had a black eye and was temporarily blinded in one eye. Using video shot from security cameras, police were able to identify Hoboken High School student Andy Rivera, 19, of Marshall Drive. He was brought to the police station for questioning and arrested Tuesday at 2 p.m. on charges of bias intimidation and aggravated assault."
The other assailant is still at large, but a warrant has been issued for his arrest. No additional details have been released about the attack, but given law enforcement's bias crime classification I'd be interested to know if there were slurs involved, etc.
Steven Goldstein, of Garden State Equality told the paper: "It is an outrage that this incident occurred based on the perception that someone is gay. We hope to see the criminals who tried to ruin this young man's life receive many years behind bars."