A warning has been sent to gay officers on the 119,000 member Philippine National Police force warning them not to exhibit certain behaviors on the job.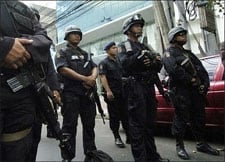 Said chief superintendent Samuel Pagdilao: "If they sway their hips while marching, or if they engage in lustful conduct, I think that will be ground for separation. The PNP does not look at the sexual preference of individual police officers but they should be wary and strict in the conduct and behavior of a police officer. If a police officer acts immorally or is indecent it could be a ground for sanction or dismissal from the police service."
Pagdilao also said that crossdressers are definitely not welcome, adding, "I don't know of anyone who is actually gay. Perhaps they remain in the closet. Being openly gay is probably still not accepted in the culture of the police."
Attention gay cops. This means no hairdressing, rainbow flag waving, or vogueing while making an arrest will be tolerated either.