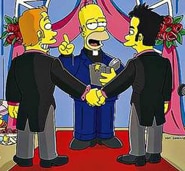 A slew of media and tech companies are working together to take on YouTube's dominance of online video. Fox, NBC, MySpace, MSN, AOL, Yahoo and others will launch a video-sharing website this summer. They will upload their own content, including the Simpsons, Heroes, Prison Break, Saturday Night Live, films like The Devil Wears Prada, and other "premium content from at least a dozen networks and two major film studios." They'll promote the site to their massive collective user base, which makes up 96% of all web traffic, according to their press release. They claim to be in talks with Viacom, who is currently suing YouTube for copyright infringement. Said NewsCorp's COO: "This is a game changer for Internet video. We'll have access to just about the entire U.S. Internet
audience at launch."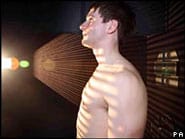 A hospital in Birmingham, England is testing the "fat scanner," a new technology for measuring body fat that is far more accurate than the BMI formula of weight-to-height ratio. The 3-D scan reveals instead a person's Body Volume Index (BVI). They plan to scan 20,000 patients in the next two years as part of a trial study of the scanner.
The head of the NIH issued a statement to Congress that criticized Bush's ban on expanded use of stem cells in medical research. "It is clear today that American science will be better served – the
nation will be better served – if we allow our scientists to have
access to more cell lines."
The FCC has decided not to allow cell phone use on airplanes. Thank Jebus!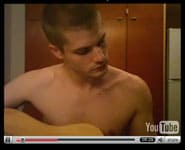 YouTube has launched an official Video Awards for 2006 clips uploaded to the site. Only original, amateur content was considered, and categories include Best Comedy Video, Most Creative Video, and Most Adorable Video. The yummy Jay Brannan, an actor and musician, is nominated for Best Music Video. Voting ends today and winners will be announced soon.
MySpace has challenged its youthful base of users to get involved with news and politics with the launch of Impact,
a section of the site that presents information on 2008 Presidential
candidates as well as social and charitable organizations. "MySpace hopes to play a 'powerful role' in the 2008 elections, CEO Chris DeWolfe said in a statement." Presidential candidates will soon be able to raise funds through their MySpace pages. Thanks for the add, senator!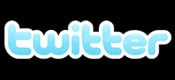 Growing in popularity is a new trend in short-form blogging ushered in by Twitter, a site that allows users to send short updates via text-message, IM, or online, all of which answer the question "What are you doing right now?" Created from the same group that started Blogger and Odeo, the addictive free service is growing rapidly in popularity. Even John Edwards has a twitter blog. People seem to like the immediacy and triviality of "twittering," a name that evokes the chirping of birds: "short bursts of information, something trivial. Everyone is
chirping, having a good time, and their phones even twitter."
Assignment Zero is a collaboration between Wired magazine and NewAssignment.net that asks the general public to participate in the process of writing news stories. Called "crowdsourcing," the experimental project combines the open-source tactic of Wikipedia with traditional journalism. Users can voluntarily take on assignments from the newsroom and upload their content, which is reviewed and tweaked by news editors. According to Wired's editor Chris Anderson, "This is an experiment in doing things differently, and maybe better. It doesn't invalidate the way things have been
done, but it allows us to bring in some nontraditional sources and
approaches."
According to eBay, the unassuming town of Lumberton, New Jersey is the most active community of eBay buyers and sellers in the US on a per-capita basis. "They still think of us as a small country post office, but the joint does jump," said the town's postmaster Kathleen Pfeiffer.
TowleTech is written by TR correspondent Daniel Williford.