Rudy Giuliani's gay talking points.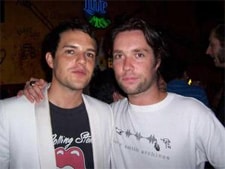 Rufus Wainwright claims Brandon Flowers is salty, and perhaps a bit stale: "I don't know [Brandon] that well, but I wrote this song about him which is kind of hilarious – it says he tastes like potato chips in the morning."

Gays with money stopping the Rick Santorums of tomorrow: "a group of rich gay philanthropists…quietly joined forces last year, under the leadership of a reclusive Colorado technology mogul, to counter the tide of antigay politics in America that has generated, among other things, a succession of state ballot initiatives banning gay marriage. Carroll had sponsored such a bill in Iowa and guided it to passage in the state House of Representatives, the first step toward getting it on the ballot."

Trent of Pink is the New Blog" survives plane fire drama over the Mojave Desert!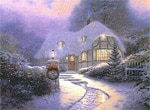 The real War on Christmas: Thomas Kinkade painting to become holiday movie.

Illinois parents protest school panel featuring gay students talking with freshman students about their experiences: "'We have a great deal of pride in the program and don't feel we are overstepping any boundaries that [most] parents would feel are inappropriate,' [assistant superintendent Suan] Hebson said. But Ellen Waltz, a Deerfield mother of eight, said the climate has changed so much that students who believe that homosexuality is immoral and violates their religious beliefs are now the ones being bullied."

Southern Baptist wingnut calls for genetic cleansing of original sin.

Thousands protest Bush arrival in Sao Paulo, Brazil. And Brazilian reactions to the U.S. president, then and now: Clinton vs. Bush.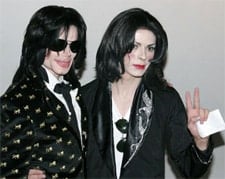 Fans freak to meet Jackson.

Obama and Clinton battle for Chicago: "Mike Bauer, for example, decided to use his years of fundraising experience and contacts in Chicago's gay community to raise money for Obama. He helped with Obama's first fundraiser after the campaign's official launch last month — a huge Chicago event that Bauer says was intended to make a statement. 'Clearly there was a desire, an intent, by the Obama campaign to hit the ground first in Barack's hometown,' he said. 'It was important, both for financial reasons and psychological reasons, to show that he has tremendous support from the people who know him the best.' Bauer said he knows several of the presidential candidates and decided to help Obama after a personal request from the senator. Obama contacted him around Thanksgiving to discuss a possible run for president and seek Bauer's support if he did run."