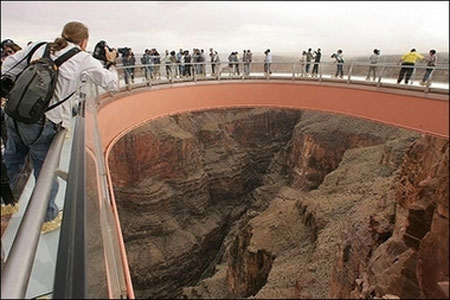 A 30,000 square-foot skywalk jutting out over the Grand Canyon which has been under construction for three years has been opened to the media and will open to the general public next week. Former astronauts Buzz Aldrin and John Herrington took the first steps on the structure yesterday. Aldrin called it a "magnificent first walk."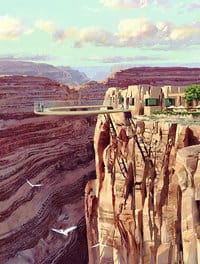 The skywalk features a clear glass floor which affords visitors a vertiginous view 4,000 feet straight down to the canyon floor. It can withstand a magnitude 8 earthquake.
According to the AP, "The tribe will include access to the deck in a variety of tour packages ranging from $49.95 to $199.00. They'll allow up to 120 people at a time to look down to the canyon floor thousands of feet below, a vantage point more than twice as high as the world's tallest buildings."
It was financed by a Las Vegas tour company owner, who will initially share admissions proceeds with the Native American Hualapai tribe. Their one million acre reservation is the site of the new attraction, and they will eventually receive all proceeds:
"The 2,300-member Hualapai is among the tribes in the United States that do not operate casinos, a $23 billion industry for Native Americans. Although more tribes recently have diversified their business ventures, fearful that relying too heavily on gambling is risky, the Hualapai tribe said it had little choice but to capitalize on its most valuable possession: the southwest rim of the Grand Canyon. 'We're land rich and dirt poor,' said Waylon Honga, chief operating officer of the Grand Canyon Resort Corp., the entity the Hualapai created in 1994 to pursue tourism ventures."
Here's a short video about its construction.
Environmentalists have been against the plan from the beginning, saying it destroys the natural beauty of the canyon.
Said former Grand Canyon National Park superintendent Robert Arnberger: "I think it's a real travesty. I understand the need for the tribe to consider the economics of the tribe, but . . . it desecrates the very place the Hualapai hold so dear."
For those of you scared of heights, here's a site that describes the welding process for the structure.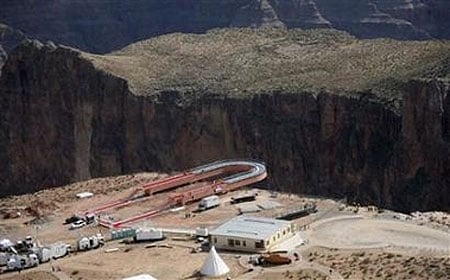 Incidentally, Tracey Thorn has a gorgeous new album out with a track called "Grand Canyon". It's not the geological formation that she's talking about, but rather "the hole inside your heart no one can ever fill." Amazing track on a brilliant new album.
Tribe's Canyon Skywalk May Bring Riches, but Also Deepens Divide [washington post]
Buzz Aldrin keynotes Grand Canyon Skywalk opening ceremony [ap]