In a special election held yesterday, Matthew Titone became the first openly gay official elected from the New York City borough of Staten Island, and the fourth in the New York State legislature. He was running against two other candidates, and the NYT reports that, however the election had prevailed, there would have been a "first" involved: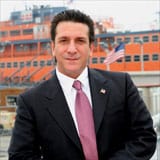 "The Staten Island race in the 61st Assembly District drew a great deal of attention because of Mr. Titone and his two rivals. The Independence Party candidate, Kelvin Alexander, would have been the borough's first black assemblyman had he prevailed. And Rose Margarella, the Republican candidate, would have been the first of her party to be elected from this heavily Democratic district in recent history. With 100 percent of the votes counted, Mr. Titone received 2,888 votes, Ms. Margarella 1,846 and Mr. Alexander 1,122, according to unofficial figures from the New York City Board of Elections."
Titone is a Democrat. He'll join Deborah Glick and Daniel O'Donnell (both Democrats from Manhattan) along with State Senator Tom Duane.
Jim Smith, a co-founder of Stonewall Staten Island, recalled Titone's coming out at the borough's second annual gay parade in June 2006, when Titone, then a candidate for state senate, said: "My name is Matthew Titone. I'm proud to be a Democrat from Staten Island, and I also happen to be gay."
Smith remembered: "It was a moment that I won't forget. It was a tremendous moment for me and for the gay community. It was pouring rain. Suddenly the rain didn't matter. This couldn't have happened in the 1980s. Society on Staten Island wasn't conditioned to it. When you were gay on Staten Island, you grew up in fear."
You may have missed…
Staten Island Homophobe David Eisler Demands McFlurry [tr]