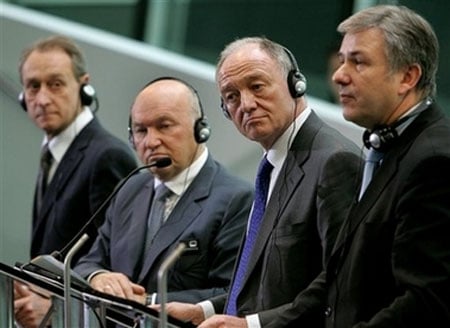 The mayors of Europe's four largest cities – London, Paris, Moscow, and Berlin, met in London along with the mayor of Beijing to discuss challenges facing their cities, and were met with protest by gay rights activists angry at the anti-gay policies of Moscow Mayor Yuri Luzhkov, who has banned a gay pride parade from happening in that city.
Two of the four mayors, Bertrand Delanoe of Paris (far left, above) and Klaus Wowereit of Berlin (far right, above), are openly gay, yet appeared to some news outlets to simply "look on" as Luzhkov branded homosexuality "wrong and unusual".
According to UK Gay News, Maria Tabak of the Russian RIA Novosti news agency asked if the mayors had raised the "controversial issues" of gay parades in Moscow: "How could we have avoided this subject? And why are you interested in this subject, Mayor? There was a lot discussed in the media. First of all what you said about gay parades and also about what Mr. Livingstone said on the same issue."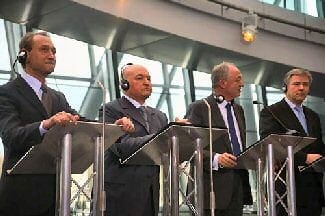 The translation appears to not be as smooth as I'd like, but here's Luzhkov's response:
"We have a different position as far as gay parades. We have different concerns – different opinions. It's enough, in terms of our understanding – we understand what is proposed by other mayors. I don't know what the position is of the Mayor of Beijing. My position is different from the three [other European mayors]. We were talking about sexual minorities and when we discuss it, the states have different attitudes to this issue. Specifically, in Russia, in 1993 – 14 years ago – the law was changed so sexual minorities were not prosecuted. We have a lot of gay clubs – we don't know many citizens, for example, have this unusual sexual orientation. But the gay clubs are free to carry out their sexual activity. What we say is that we are against propagating – we are against promoting. Like any other society, we want to protect ourselves from the promotion of alcohol and tobacco. When we promote smoking, it's bad – it's wrong. But through the gay parade you promote some uncertainty, of course. It becomes an invitation to acquire this quality of the sexual minorities. This is OK. That is normal. Our view is that it is wrong and unusual. Let the gay people do what they do. But they should not involve the citizens of our country."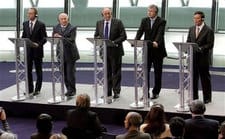 Luzhkov recently said the gay pride events were "satanic".
Paris Mayor Bertrand Delanoe said the mayors had discussed it: "We had a debate on this is a very relaxed way. Our differences in the way we see the situation were made with great respect for each other's views – and in a peaceful and calm way. In terms of discrimination in general, we have to look at equality of rights. That leaves us to combat every form of discrimination. You do not become homosexual – there is no risk of propaganda. This is not a disease you catch at some point. It is somehow part of our identity. Some of us have brown skin, some of us have fair skin, some of us have brown eyes, some of us have blue eyes. We are born heterosexual or homosexual. And that is it."
A German correspondent, Jochen Hick, reportedly asked if Luzhkov would allow the gay pride parade should the other mayors at the conference say they want to attend. Last year parade organizers attempted to hold events even after the parade was banned. The resulting violence from Russian nationalists and ultra-orthodox Christians injured visiting gay German MP, Volker Beck (see photo):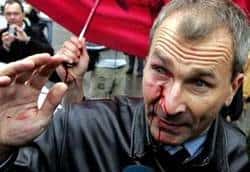 Luzhkov responded: "I am not going to allow the gay parade. The final decision is taken by the court. If the court makes the decision to allow the gay parade, then the participants are free to parade. Last year, the court supported my decision and the gay parade didn't take place. If the gay parade is not allowed [by the court], that is according to the law."
London Mayor Ken Livingstone, who was moderating the event, was branded a hypocrite for not taking a stronger stand in person against Luzhkov's position on gay rights after releasing a printed statement criticizing the Moscow mayor's views. Journalist Nicolas Alexeyev says Livingstone ignored his attempts to ask a question at the press conference because he was critical of the London mayor's policies: "It is very easy to make statements from his office about supporting gay rights. It is not so easy to be brave enough to tackle the Moscow Mayor about his attitudes."
Livingstone and Wowereit did not make public comments on the Russian Mayor's views.
Homosexuality Not a Disease, Gay Parisian Mayor Tells Moscow's Luzhkov [uk gay news]
You may have missed…
Gay Rights Violence Erupts in Moscow [tr]
Moscow Mayor Yuri Luzhov Supports Violence Against Gays [tr]