Looks like he's bringing BBQ to the Upper East Side.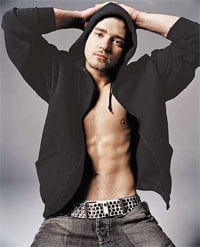 According to New York mag's 'Grub Street': "According to the exclusive broker for both sides, James Famularo of NYCRS, the Tennessee boy plans to open what's described as a laid-back, festive barbecue joint called Southern Hospitality. As with his first restaurant Destino, the shaved showman will partner with Eytan Sugarman, owner of bygone clubs Suede and producer Timbaland's Harlem venture Cherry Lounge. Famularo says that Timberlake will have a larger stake in the new place: 'I heard a lot of people with Tennessee accents,' he said of a recent drop-in. 'Justin is bringing a lot of his group up to be a part of this.' If all goes as planned, the opening will coincide with the conclusion of the FutureSex/LoveSounds tour in late April."
Will "sexy back ribs" be on the menu?
You may have missed…
Timbaland: Justin Timberlake's "SexyBack" is a Really Gay Track [tr]
Justin Timberlake and the Unabomber: Separated at Birth? [tr]