Former NBA player John Amaechi, who recently announced that he's gay, continues to demonstrate restraint and good taste, even when noting that there's some amount of "karmic justice" in the fact that he has just signed to represent Headblade, a company specializing in products for bald men, while Tim Hardaway, employed for the very same position with rival company BaldGuyz, saw his sponsorship cut after responding to Amaechi's disclosure by saying "I hate gay people" to a South Florida radio show.
Said Amaechi: "I don't feel any joy [at Hardaway's loss].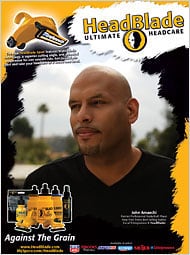 The ads featuring Amaechi will run in two basketball magazines, Hoop and Slam, and while HeadBlade is not a huge company, Amaechi's endorsement deal is being noted as a step forward in the acceptance of openly gay athletes by mainstream marketers.
What those marketers aren't looking for is controversy, notes the New York Times:
That aptly described what happened to Snickers, sold by the Masterfoods USA division of Mars, after it ran an ad during the Super Bowl. Gay activists complained about the spot, which showed two men who had accidentally kissed reacting by harming themselves. Masterfoods withdrew the commercial, created by the TBWA/Chiat/Day unit of Omnicom.

"The problem is that it was conditioning, modeling behavior," Mr. Amaechi said, by showing that "real men" were supposed to feel conflicted and horrified when two men kiss.

Asked if he would accept an offer to endorse Snickers, Mr. Amaechi replied: "I could show you how to react to two men kissing. Smile broadly."