You were 21?
I was 20. Two guys who were seniors at the time, Neil Stewart and John Mailer, loved the show and said, "We want to help you bring this to New York." They were able to take a CD of the musical to Tommy Kail [the director]. They got in touch with me my senior year and they were like, "We started our [theater production] company and we'd love to work on In the Heights with you as soon as you graduate." And so I graduated, and the next week I was in the basement of the Drama Bookshop. Kevin McCollum came to a reading we did in June 2003.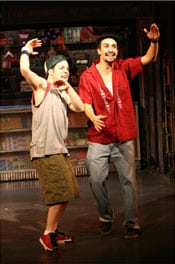 He's the producer of Avenue Q?
Yeah. He said, "I'd like to invite you to the preview of this new show we're working on, Avenue Q." It was like the third preview and I literally turned to Bill, my co-arranger and said, "Fuck." It was the same plot but it was so much wittier and better done than the tortured adolescent version [of In the Heights] I had written. That was the beginning of the end of the [closeted gay] Lincoln story. It turned from a love triangle into two parallel love stories.
Not many college sophomores are writing musicals. Was writing a musical something you always wanted to do?
I saw The Little Mermaid when I was a little kid and it changed my life. I dragged my parents over and over to see it. I just felt so transported to this other world with people bursting into song—like what life should be. I had a great theater program in high school called Brick Prison where it's student-written plays, student-directed, all student-run. I had written one-act musicals, these twenty-minute things, and I wanted to write a full-length musical. The soundtrack of In the Heights is really the soundtrack of my life. My parents were both born in Puerto Rico, so Latin music is a staple of our household, but I grew up with hip-hop and all my friends listened to hip-hop. It was Fat Boys and Beastie Boys when we were little, and then it was Far Side and Tribe Called Quest and Biggie in the 90s. I came of age with hip-hop.
It was a seven-year journey to get to In the Heights on this stage. What was it like when you finally opened here in previews in January 2007?
So strange. Very emotional. I really lost it when we did the first rehearsal with the band and I could hear the brass in the songs and we got to that section in the finale where [my character is] like "There's a breeze off the Hudson" and I started bawling my eyes out. It would hit me when I first saw the set and it was this mind-blowing thing.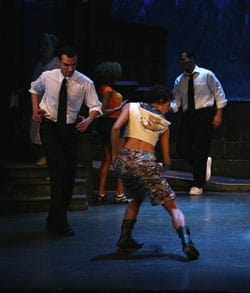 What do you see as the future for musical theater? Is it an endangered species?
Every time I think it's an endangered species I hear some new music and I'm blown away. I like to try and write music that I listen to. I want music that I'm not ashamed to blast on my car stereo. I love hip-hop and I love Latin music and I love every genre of music, and so that's the fun part of using contemporary music and figuring out how to tell stories with it. Musical theater [used] to be the popular music of its day. Half of these music videos are stealing from old school musicals. You look at Usher's "My Way" video and it's West Side Story. "Smooth Criminal" is wearing the exact same suit as Fred Astaire wore in the dance sequence in Bandwagon. So it's not dead, it's just hiding.
Do you have more musicals in you?
Oh yeah. I got musicals for days, and I'm really excited about that. I don't know if they're necessarily stage musicals, I don't know if they're music for TV or for an album or for movies, but yeah, that doesn't stop. Since I was little that hasn't stopped. I'm not worried about that. I do have more musicals in me, but I don't know what they are yet.
*****
IN THE HEIGHTS (website), at 37 Arts, 450 West 37th Street, New York City. Shows are Tuesday-Friday at 8 p.m., Saturday at 2 p.m. and 8 p.m., and Sunday at 2 p.m. and 7 p.m. Tickets from $36.25 to $76.25.
(photos: Joan Marcus)
NOTE from Andy: Josh Helmin, who also co-writes the blog Josh & Josh Are Rich and Famous, will be writing occasional posts on entertainment and other topics for Towleroad on a regular basis. I'm happy to welcome him aboard.