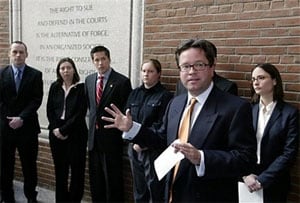 Twelve veterans discharged for being gay have asked the 1st U.S. Circuit Court of Appeals to reverse an April ruling by U.S. District Judge George A. O'Toole, dismissing their challenge to the military's 'Don't Ask, Don't Tell' policy.
The veterans, representing the Army, Navy, Air Force and Coast Guard, all served in the recent "war on terror" according to the Servicemen's Legal Defense Network, would like to be reinstated in the U.S. armed forces.
In arguments today, former Army Capt. James Pietrangelo II told the court: "Systematically in the military today, gays are being harassed, hounded, harmed. This is segregation all over again."
There was no immediate ruling from the court.
you may have missed…
First Marine Wounded in Iraq Comes Out of the Closet, Calls for Repeal of "Don't Ask, Don't Tell" [tr]