Two 21-year-old University of Colorado students, Adam Perez (left) and Eric Schorling, were arrested after harassing and allegedly assaulting a young gay couple early Sunday morning in Boulder, according to the Rocky Mountain News: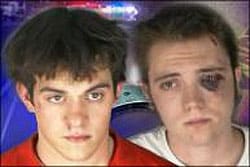 "The suspects are accused of making derogatory remarks to a gay couple who were walking in front of them. The 21-year-old victim was walking with his arm around a 19-year-old man near 10th and Pearl streets around 12:30 a.m. Sunday. There was a brief verbal exchange before Schorling, Perez and the victim began fighting, police said. The victim was able to punch one of his attackers and free himself shortly before police arrived. The victim's name was not released."
9News in Boulder reports that the victim was able to land a punch on Schorling, giving him the black eye you see in the photo: "Perez was arrested for second degree assault and bias motivated crimes. Police say Perez's second degree assault charge stems from a strangle hold he is accused of placing on one of the victims. Schorling was arrested for third degree assault, bias motivated crimes and felony criminal mischief. Police say Schorling is accused of breaking an expensive pair of glasses belonging to the victim during the altercation. Both Perez and Schorling were booked at the Boulder County Jail where their bond was set at $5,000 each."
This is the second incident of its kind in Boulder in less than a month. Late last month, a woman was assaulted after she told two men she was a lesbian and not interested in their advances.