At a forum Tuesday night, students at the University of Massachusetts Amherst demanded that the school implement mandatory diversity training after a vicious homophobic assault on February 28th which sent a student to the hospital with brain and head injuries:
From The Amherst Bulletin: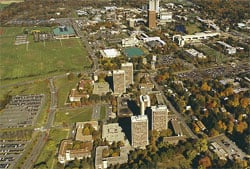 "Authorities say UMass student Tony Brennan, 24, of Winchester, jumped out of a car driven by a friend and began to beat a 20-year-old UMass student after uttering anti-homosexual remarks at his victim.

The victim was a 20-year-old UMass student. As a result of the attack, the victim suffered a fractured eye socket and a concussion. He was treated for the injuries at Cooley Dickinson Hospital.

UMass student Christopher Cobb, who is a friend of Brennan's and was riding in the car that night along with three women, has since told another version of the assault. In Cobb's version the victim instigated the fight and received the worst of the encounter. Cobb said no anti-gay remarks were made.

Police dispute Cobb's account of the incident."
Said Elvis Mendez, president of the Student Government Association: "There needs to be a discussion if we are going to make this better. We need a way to reach out to people who wouldn't normally come to something like this."
According to 365gay.com, "Brennan is from Winchester, Massachusetts, and coaches the UMass Women's Hockey Club. He is also listed as an intramural hockey player. Pending the outcome a trial Brennan could be expelled. It is not known if either Brennan or the victim knew each other, or what make the victim a specific target other than his suspected sexuality."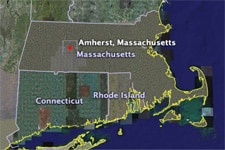 UMass Police Detective Robert Thrasher told the student group assembled at Tuesday night's forum that there was one "glimmer of redemption" in the gay bashing: "A woman who was a friend of the aggressor and was at the scene of the attack stayed behind to help the victim. 'The young woman stood up for somebody,' Thrasher told an audience of about 65 people gathered at a forum at the UMass Campus Center Tuesday night to discuss feelings surrounding the attack and how the campus community can move forward. 'She was disgusted by her friend and stayed to help the victim. I know it's not much, but at least someone stood up,' Thrasher said."
Brennan has reportedly pleaded innocent to "aggravated assault and battery, a civil rights violation, and assault and battery to intimidate someone based on race, creed or sexual orientation with bodily injury involved". He was released on $1,000 bail.
UMass forum responds to allegedly homophobic assault [amherst bulletin]