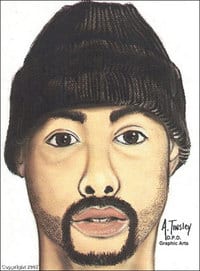 Police have released a sketch of a man wanted for the fatal beating of 72-year-old Andrew Anthos, clubbed to death with a pipe in front of his Detroit apartment in an anti-gay hate crime. Anyone with information is asked to call Detroit Police at (313) 596-2260 or anonymously call 1-800-SPEAK-UP.
Anthos' niece told Gay.com yesterday: "I promised two things, that I would get the dome lit and (pass) hate crimes (legislation). I don't think I'll be getting enough rest till this is all done."
More from Gay.com: "At Wednesday's funeral in Center Line, Mich., Fedenis said, about 80 people gathered to share memories of Anthos and how he had touched their lives. They included friends, loved ones and folks from the post office and library branch from which Anthos used to post and e-mail his voluminous correspondence. The Singing Librarians, a chorale of Detroit Public Library workers, performed two numbers, one by Gershwin and one from 'Show Boat' that had been sung by his beloved Ava Gardner. 'I can handle the R-E-E-L world,' Detroit Free Press columnist Susan Ager remembered him telling her, 'but the R-E-A-L world scares me.' Melissa Pope, director of victim services for Michigan's Triangle Foundation, described the tribute as 'very loving'. Different branches of the family had never met prior to this horrific murder,' Pope said. 'They felt Andrew had brought them together.' Anthos' family has set up a foundation to raise funds toward his dream of lighting the dome. Donations may be made to Andrew's Light, P.O. Box 66164, Roseville MI 48066."
Additionally, a candlelight vigil will be held this evening outside the apartment where Anthos was struck down. 6:30 p.m. at Windsor Towers, 1600 Antietam, Detroit MI 48207.
You may have missed…
Detroit VIPs Silent on Gay Senior Andrew Anthos' Murder
Gay Senior Citizen Brutally Beaten in Detroit Hate Attack Dies [tr]