Archbishop Angelo Bagnasco of Genoa, the head of Italy's bishops' conference, has been placed under police guard after the facade of the Cathedral of San Lorenzo in Genoa was defaced with the words "Shame on you Bagnasco".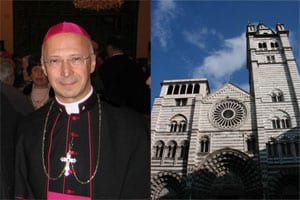 The vandalism was in apparent retaliation for comments Bagnasco made recently comparing gay rights to incest and pedophilia. In his comments, Bagnasco said, "Why say 'no' to forms of legally recognised co-habitation which create alternatives to the family? Why say 'no' to incest? Why say 'no' to the pedophile party in Holland?"
Catholic World News reports that "the president of the homosexual activist group Arcigay, Sergio Lo Guidice, declared 'solidarity with Bagnasco in the case of the graffiti, but even more so with the victims of the archbishop's most offensive words on pedophilia and homosexual civil unions.'"
Bagnasco's comments were made with regard to a bill being considered in the Italian parliament that would grant a broad array of rights to same-sex couples.
Three priests in Turin, Fathers Vittorio Cristelli, Aldo Antonelli of Aquila and Beppe Scapino of Ivrea, have spoken out against the Vatican's position on same-sex civil unions, added CWN: "Father Antonelli, in a particularly acrimonious statement, said that the position taken by the Italian hierarchy demonstrates 'the Talibanization of the Church.'"
According to Reuters, "A police spokeswoman said the archbishop, who has been vocal in the Vatican's campaign against a bill in the Italian Parliament that would grant rights to unmarried couples, including homosexuals, was being accompanied by a police escort. Last week, the bishops' conference issued a directive ordering Catholic lawmakers to vote against the bill."
Thousands Oppose Vatican, Rally for Gay Rights in Rome [tr]
Italy Approves Draft Bill Giving Legal Status to Same-Sex Couples [tr]