In an interview with Charlie Rose on Friday, CBS college basketball announcer Billy Packer casually used the term "fag out" while joking about Rose being a runner for him in this year's Final Four basketball match-up. 'Good As You' has the video of Packer's comments.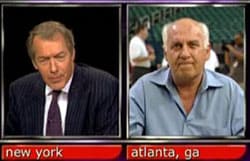 "Do you need a runner this Final Four?" Rose asked, "because I could jump on a plane and I could be there." Said Packer: "You always fag out on that one for me, you know. You always say, oh yeah, I'm gonna be the runner, then you never show up. But I'm sure they can find a place for ya. You've got all the connections in the world. You can go ahead and be a runner anyplace you want to."
The term, as defined by Urban Dictionary means "To bail on something, 'pussy out'" while WordWebOnline defines it as "exhaust or get tired through overuse or great strain or stress."
Outsports asked CBS Sports Vice-president of Communications LeslieAnne Wade about the comments. Said Wade: "I know he wasn't meaning to be insensitive at all. While it is a term that is in the dictionary, it was still a poor choice of words. I'm confident that he would agree that it was a bad choice of words."
I'd agree. And while it appears to be a colloquialism left over from the days of the dinosaurs (John Amaechi said "I can honestly say I have never heard that phrase used that way. Not in my entire life."), perhaps Packer deserves to be bent over the knee of Tim Hardaway and spanked until Hardaway "fags out".