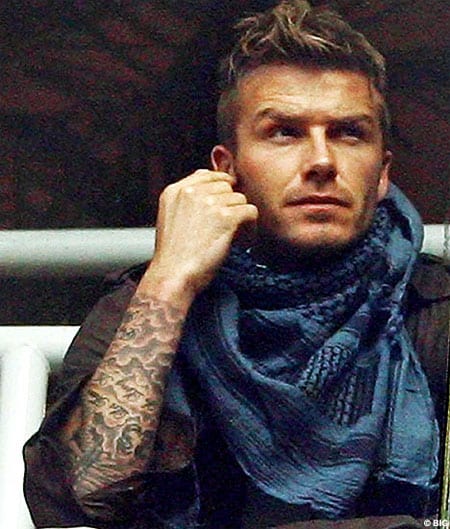 David Beckham sat out another Real Madrid game with an injured knee over the weekend, but it looks as if some other body parts have been getting attention. Beckham's tattoos are well-documented and, seated in the stands, the footballer revealed he's had some work done on his right forearm.

The tattoo (he has nine already) appears to be an extension of a scene with clouds and angels from his upper arm. Upon closer inspection and a bit of detective work (the words "let them" and "so long as" are visible) it looks like Becks has inscribed a quote attributed to the Roman emperor Caligula: "Let them hate, so long as they fear."
In other brand Beckham news, it appears that the BMW X5 that was stolen from him last year is now in service as a Spanish government limo. Considering he was handed a new car the next day it's doubtful he's worried about it.
One more shot of the pensive player, after the jump…