The Beckhams have finally found their Beverly Hills palace. The details, according to Hello:
"Set in a 13,000-square-foot plot, the Italian-style mansion will be Victoria and David's base when the Real Madrid player moves to LA Galaxy. The modern interior features a mixture of hardwood and slate floors with six fireplaces and full air-conditioning. And there should be no squabbles about who gets to use the shower first – the house has nine bathrooms. The lavish property also boasts views of the ocean, a swimming pool and fountain as well as a three-car garage. Nor should privacy be a problem as it's surrounded by tall hedges and accessed by huge iron gates. Although expensive by many people's standards – monthly mortgage payments will be $91,666 after a 20 per cent down-payment – the $22 million, palm-fringed villa is a relative bargain for football's richest player due to the dollar's current weakness."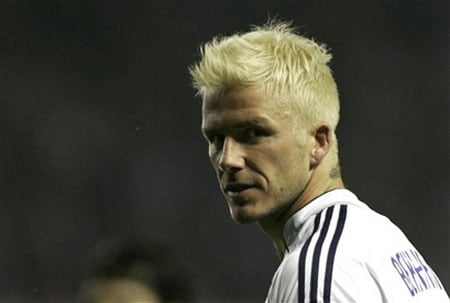 It seems quite a few people want to capitalize on the Beckham's recent move to Los Angeles. Last week David and Victoria threatened to sue the makers of a new documentary entitled The Beckhams Go To Hollywood which follows professional Beckham lookalikes Andy Harmer and Camilla Shadbolt: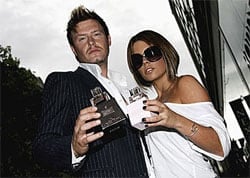 "To the dismay of the real Beckhams, the doppelgangers ran riot: they persuaded a Lamborghini garage to let them test-drive a $720,000 sports car, they left exclusive boutique H.Lorenzo with a $21,000 string of black pearls after assistants told them they could have "whatever they want" free (one assistant even revealed she had served Victoria Beckham two weeks before, and they were ushered into the VIP area of a nightclub favoured by Paris Hilton). But the couple's luck ran out when they tried to drop in on a restaurant popular with Hollywood stars. In the film, the couple arrive at The Ivy in a stretch Humvee, surrounded by paparazzi. Waiters clear a space for the "Beckham party", which incorporates a fake feng shui expert and an acting coach. Minutes later they are turfed out after the manager, who has greeted the real thing, spots they are fakes and threatens to call the police."
The documentary is scheduled to air in Britain this Thursday.