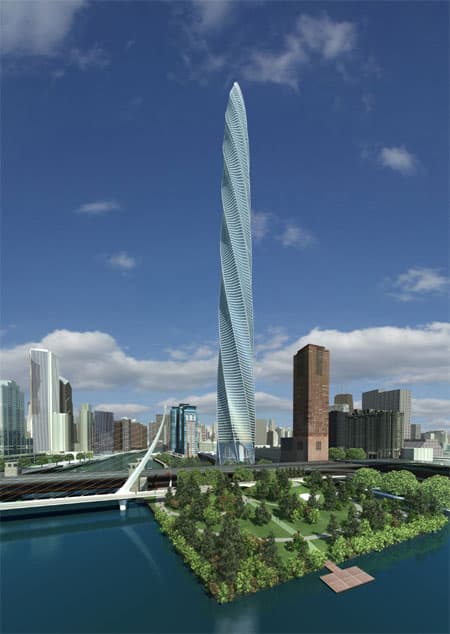 With an endorsement from the Chicago City Planning Commission last week, Santiago Calatrava's 2,000 ft. "Chicago Spire" has come one step closer to reality. The building would become North America's tallest skyscraper, surpassing its next tallest rival, Chicago's Sears Tower, by 550 feet.

The project has been through several iterations, according to the Chicago Tribune: " Inevitably, some will lament that this is not the original version of the tower, called the Fordham Spire, which proposed a hotel and communications antenna as well as condos on a vacant site west of Lake Shore Drive and on the north bank of the Chicago River. But that design was a seductive fantasy. This one, which would house about 1,200 condominiums, is striving to be real. Certainly, it has made great strides toward balancing form and finance, especially since December, when Calatrava made public a banal, nearly flat-topped version of the skyscraper. It instantly was tagged 'Twizzler Tower' (see video, below right) for resembling a piece of licorice. Since then, the restless architect has moved gradually to the present plan, in which the tower rises energetically but nobly, making a 360-degree twist as it moves from the ground to a sharply articulated summit."
Recent improvements to the plan, including moving a parking structure underground and a generous financial commitment toward the development of adjacent DuSable Park (named for Jean Baptiste Pointe du Sable, the first non-native settler of Chicago) from Shelbourne Development, appear to have won city planners over. The Chicago Spire's plan includes 150 stories, each of which would rotate two degrees from the one below it , to a total rotation of 360 degrees. The videos below show part of a presentation Calatrava gave to the Chicago City Planning Commission (left) and an earlier plan for the project.
City panel endorses Spire's latest twist [chicago tribune]
Chicago Spire gets Plan Commission OK [crain's chicago business]
You may have missed…
Getting Interactive with Frank Gehry and Barry Diller's IAC [tr]
Gerald Ford's Childhood Home: Restored with Gay Pride [tr]
Dubai Real Estate Developer Plans Ipod Building [tr]