The Walt Disney Co. announced yesterday that it would open its "Fairytale Wedding" program to same-sex couples in response to criticism of its policies from AfterElton.com in early March.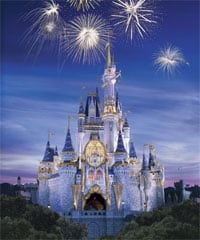 The "Fairytale Wedding" package includes "a wedding planner, the ceremony, food and beverages, flowers and table decorations" according to Reuters, and is available for $8,000. An upgraded version of the package includes "a ride to the ceremony in the Cinderella coach, costumed trumpeters heralding the couple's arrival, and attendance by Mickey and Minnie Mouse characters dressed in formal attire."
Disney's policy had limited same-sex couples to renting meeting rooms at the resort for weddings and commitment ceremonies but had barred them from using locations at the Disney resorts created specifically for weddings.
Said Disney Parks and Resorts spokesman Donn Walker: "We are updating our Fairy Tale Wedding guidelines to include commitment ceremonies. This is consistent with our policy of creating a welcoming, respectful and inclusive environment for all of our guests. We are not in the business of making judgments about the lifestyle of our guests. We are in the hospitality business and our parks and resorts are open to everyone"
Disney gives gay couples 'Fairy Tale Weddings' [reuters]