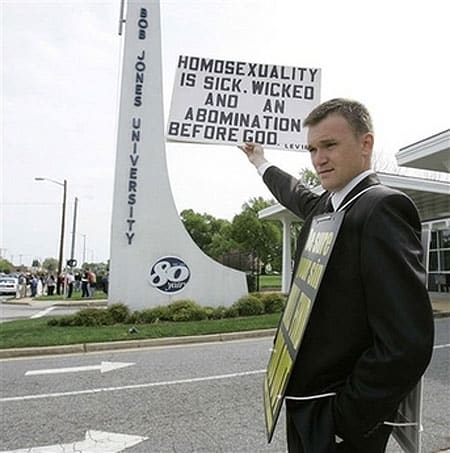 Members of the gay rights group Soulforce are just about midway through their 2007 Equality Ride, visiting 32 colleges and universities across the nation that discriminate against gays and lesbians. These photos come from a recent stop at Bob Jones University in Greenville, South Carolina where they were met by a few counter-protesters.
There have been numerous arrests along their journey thus, far. At this stop, three young women, ages 22-24 were arrested when they tried to walk on campus to deliver artwork and a message calling for changes to the school's disciminatory policies.
According to Soulforce, Stephen Jones, the president of this private Christian college, send letters to individual Soulforce riders telling them that "the institution believes the Bible is clear about God's view of homosexual practice [and that there is] no room for dialogue."
Said Katie Higgins, one of the arrestees: "As I was being arrested I could see hundreds of students looking over at us from the chapel, interested in what was happening. It is unfortunate that BJU administration was so quick to restrict the academic freedom on their campus that should be an integral part of the college experience."
More on the Equality Ride here.
You may have missed…
Soulforce Bus Defaced with Gay Slurs in Iowa [tr]