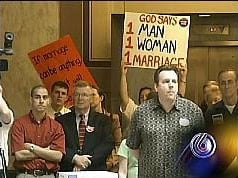 A tied (5-5) vote in the House Rules and Legislative Procedure Committee effectively killed the proposed amendment banning gay marriage in Indiana for what could be a year. Five Democrats opposed the amendment, with four Republicans supporting it. They were joined by one Democrat.
"The Democrats who voted against the proposed amendment said they had no problem with the first section of the amendment, which states that marriage is between a man and a woman. Each said they believe in that portion, but had concerns about the consequences of a second section which states that no law can be construed as granting the legal incidents of marriage to anyone other than a married man and woman."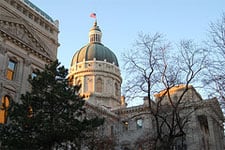 Just last week, a crowd of over 1,000 came out to show their support for the amendment, packing the statehouse as legislators debated.
Indiana Democrat Dan Parker applauded the amendment's defeat and criticized Indiana Governor Mitch Daniels for refusing to touch it.
Said Parker: House Democrats took a stand today against ill-crafted legislation that would have done more harm than good. This wasn't a vote against traditional marriage; it was a vote for protecting vulnerable Hoosiers and promoting job growth….[Governor Daniels should show] some kind of leadership on the amendment, especially in light of his much-touted commitment to economic development. The governor has had multiple chances to say something about this amendment, but he's nowhere to be found."
Same-sex marriage ban defeated [indy star]
Marriage Amendment Could Be Dead For Year [ap]