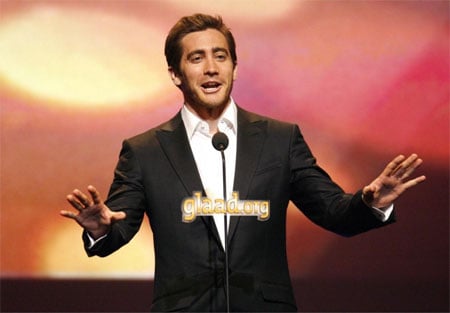 The 18th Annual GLAAD Media Awards took place Saturday in Los Angeles, honoring Martina Navratilova, Little Miss Sunshine, Jennifer Aniston, Ugly Betty, Brothers & Sister, La Opinion, and Grey's Anatomy. The GLAAD awards honor "mainstream" media for their representations of LGBT people and issues. They've also come under scrutiny recently for their exclusion of gay media organizations from the awards. Here are a few notes from around the web:

Jake Gyllenhaal reportedly made a last-minute surprise appearance: "…he took the stage to thunderous applause and a whole lot of hooting and hollering, which only barely quieted when he admonished the crowd, 'Settle down, cowboys.' That naturally did nothing to help people chill out, though they eventually hushed up long enough for him to award [Jennifer Aniston] the coolest straight chick prize.

Grey's Anatomy took the award for "Best Individual Episode" for a show entitled "Where the Boys Are". And no, they aren't referring to that episode wherein Isaiah Washington called T.R. Knight a "faggot" and escaped the media gauntlet unscathed.

Access Hollywood talked to TR Knight at the GLAAD awards and asked him about how the cast has been doing since Isaiah Washington's homophobic outburst. Said Knight: "I don't know. We're showing up and doing our work…There's a lot of work to be done so that's my focus." Asked directly about his relationship with Washington, Knight replied: "I just focus on doing the work. That's my job; that's what I'm paid for; and I think that's enough."

Reichen Lehmkuhl smooched up the red carpet with his new boyfriend again while Lance Bass flew solo, later presenting Martina Navratilova with the Stephen F. Kolzak Award. That award is offered to a celebrity who has made a significant difference in promoting equal rights for the LGBT community.

The awards didn't go by without receiving some criticism. Longtime activist Michelangelo Signorile slammed the organization on his new blog, The Gist, calling the awards shows a "hand job" for Hollywood. Signorile: "The GLAAD Media Awards need to be halted, or at the very least, radically pared down, immediately, while the gay movement still has some integrity left. A group that began in the 80s as a fiery organization committed to direct action against media bias has turned into a high-priced masseuse for Hollywood and media titans alike, offering full ejaculatory release. The last thing that my gay media colleagues should be demanding is some of that masturbatory pleasure for themselves."