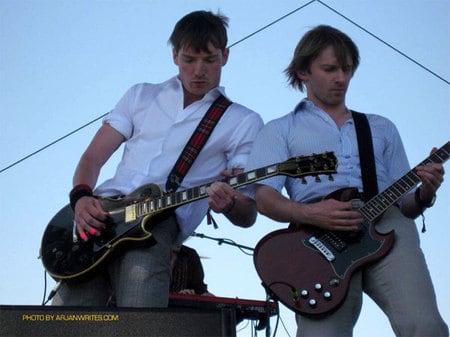 [by Arjan Writes, guest blogger] Over the last few years, the Coachella Music & Arts Festival has grown into one of the biggest outdoor music festivals in the country. When Madonna appeared last year, she added a mainstream flavor to the event and brought a whole new audience with her. This gave organizers the confidence to grow the event and turn it from a 2 to 3 day event. Set in the scorching desert three hours east of Los Angeles, this year's event was action-packed with some of the hottest talents of the moment perform.
There were many great moment, but here are a few of the highlights (click images to enlarge):
Bjork returned to Coachella playing on Friday night wowing the crowd with new tracks ("Earth Intruders") and old favorites ("Hunter," "Army Of Me," "Pagan Poetry"). She appeared in a costume that looked like The Last Emperor meets Joseph and the Amazing Technicolor Dreamcoat.
The Red Hot Chili Peppers played an energetic set on Saturday. They mixed it up a little and covered Stevie Wonder's "Higher Ground" with a few bars of Donna Summer's "I Feel Love."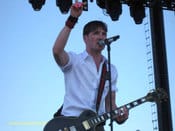 Perfectly coiffed and styled, The Feeling turned it up a few notches for their show on Sunday afternoon. Openly-gay frontman Dan Gillespie-Sells (above and right) stayed true to form. He introduced the last song "Love It When You Call" with "I will leave you with this little tune, my darlings."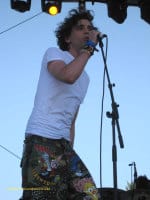 Mika (left) appeared a little earlier on the mainstage. Dressed in a simple white tee and "cartoon motion" military pants, he went over very well with the crowd of boarder dudes and rock chicks who had settled early in front of the stage in anticipation of Rage Against the Machine later that day.
Break out act The Klaxons (below, right) presented a fresh, exhilarating sound on Sunday that had me dizzy on my feet from beginning to end. Set included the delicious "Golden Skans." This is a band to watch.
Members of British band Placebo have never made a secret of their sexuality. Singer Brian Molko (below, left) is bisexual and bassist Stefan Olsdal is openly gay. The group played a tight, soaring rock set that included a remake of Kate Bush's "Running Up That Hill."
Tiesto made the Dutch proud when he headlined the mainstage and closed the Saturday program. This was the first time a DJ was chosen in favor of a rock act to get this honor. Tiesto played a pre-programmed set that was timed in conjunction with compelling visual effects. He included older fan favorites and tracks from his new album "Elements of Life."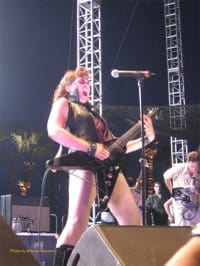 Peaches (left) rocked her set on Friday night. This chicks knows how to bring it. The brash performer kept a steady pace accompanied by the handsome JD Samson on keys and drummer Sam Maloney. After opening the show with her light saber routine, she jumped on the drum set while chanting "Impeach my bush, impeach my bush."
Rufus Wainwright played songs from his new album "Release The Stars" on Saturday in a packed Mojave tent. Appearing in a robed "gay messiah" costume, he played the piano and acoustic guitar. He was backed by a full band including a horn section. He was quoted saying, "It's great to be here in the desert, where all the rejects had to go and the Jews and the homosexuals."
Dance lovers were in for a treat well with kicky sets by French DJ David Guetta, Felix da Housecat and Paul van Dyk. Faithless delivered a powerful performance on Friday night, sending the crowd into frenzy with live renditions of "Mass Destruction" and the pumping " Insomnia."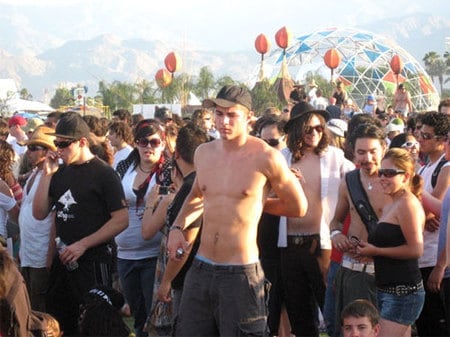 Arjan is the author of the music blog Arjan Writes, where you can find new music, free downloads, album reviews, and artist interviews. More on each of these artists there.