In the latest salvo in the Jim McGreevey divorce battle with his estranged wife Dina Matos-McGreevey, the former governor is demanding joint custody of their child (a revision of the sole custody and child support he was demanding in mid-March) and claims that his former wife is dragging their daughter on tour dates to publicize her upcoming tell-all memoir.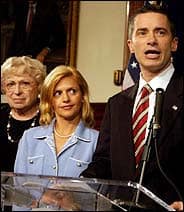 The Post reports: "According to the motion, Jacqueline has already been to the set of 'Good Morning America' and in Kelly Ripa's dressing room on the set of 'Live with Regis and Kelly,' and joined Matos McGreevey and Diane Sawyer at a meeting."
McGreevey also accuses Matos-McGreevey of being homophobic (she has "seemingly irrational fears" about his sexuality) and of not disclosing medical information about their child as well as school absences. There's also apparently a dirty picture in their home that he wants taken down.
Said McGreevey yesterday upon filing the latest motion: "Dina and I both seek to serve the interests of our daughter. It is my hope the court would provide for an added measure of balance and nurturing of Jacqueline's interests."
McGreevey sets terms in custody battle [home news tribune]
McG Rips Wife's Gay Fear [new york post]
You may have missed…
Jim McGreevey Joins Larry Kramer in Times Square Protest [tr]
McGreevey Divorce Gets Ugly as Former Gov. Demands Custody [tr]