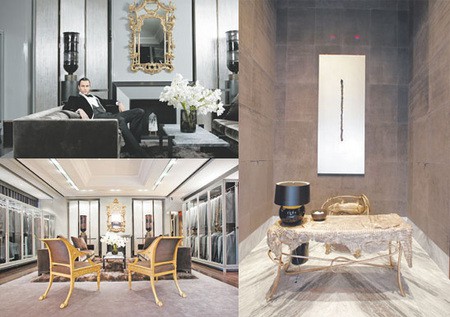 New York magazine reports on the run-up to the opening of Tom Ford's new 8,680-square-foot Madison Avenue (@ 70th) store on Thursday, which apparently contains a preponderance of beaver and butler throughout: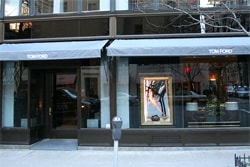 "Early this afternoon, Ford, dressed in a three-piece suit and pocket square, gave a private tour to select reporters. Cathy Horyn and Eric Wilson from the Times were both there; so was Time Style & Design editor Kate Betts, a former Harper's Bazaar chief. The place is quintessential Ford, dripping with sex. There are beaver rugs throughout — wink, wink — and a giant metalwork sculpture in the foyer that's also very beaverlike. The place is designed to look like and feel like a fancy residence — there are butlers and housekeepers (dressed in traditional uniform) who circulate. There's a hidden elevator with upholstered walls, fireplaces, a bar and, you guessed it, smoking jackets."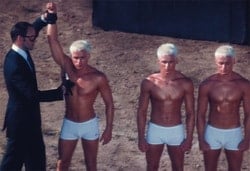 Ford told Women's Wear Daily he asked himself where Cary Grant might shop if he were alive today: "This is the new incarnation of [my brand], and the official incarnation. I gave a big part of myself to what I did at Gucci and Saint Laurent, and then, when I left, I took that with me. You would walk in here and be able to see certain similarities…The downstairs room is a copy of our house in London. Richard [Buckley, his partner] is not going to be very happy when he sees it. I even took some pieces out of it. I just shipped them over. You have to really look into yourself and think, 'What is it that I like? What am I am about?' and then try to make it mean something."
Ford adds that for him it's all about service (though it's unlikely you'll find him there buffing the Karshner triplets — see photo): "I want someone to say, 'Hello' when you walk in. I want someone to call you sir, or, if they know your name, Mr., or Ms., or Mrs. I want them to get you a Diet Coke if that is what you want. I want them to be nice to you with a smile, and I want them to be knowledgeable about the product and to be able to tell you about it, or if you don't want to listen to them, to not tell you about it. I like it when someone calls me sir, or Mr. Ford. Maybe I've been living in England too long."
The new shop is to be open by appointment from 7-11 am and again from 5-7 pm. Between those hours, it's open to all.
Tom Ford's Big Leap: Manhattan Store Puts New Stamp On Luxury [wwd]
Sneak Peek: In New Store, Tom Ford Loves Beaver [ny mag intelligencer]
And you may have missed…
Tom Ford Famous for Not Wearing Underwear [tr]
Tom Ford and the Fashion Bots [tr]