As a counterpoint to yesterday's leaked revelations from Dina Matos-McGreevey's forthcoming memoir Silent Partner in the New York Daily News in which Matos-McGreevey claims that she was convinced her husband was straight, Jim McGreevey filed court papers yesterday which claim just the opposite.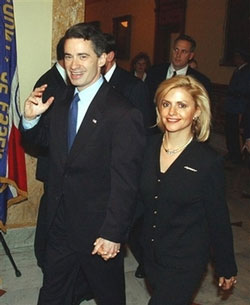 The former New Jersey governor now says that Matos-McGreevey knew he was gay before they were married – a full four years before he came out of the closet before news reporters.
Said McGreevey's sworn statement: "Although it is clear that (Matos McGreevey) knew of my sexual orientation before our marriage, she chose to either ignore it or block it out of her mind, even when questioned by her friends. Now that it's out that I AM A GAY AMERICAN, she will try to rewrite history claiming me to be bisexual. This is homophobia in its worst form."
The New Jersey Star-Ledger points out that even in McGreevey's own book, The Confession, a moment is described two years into their marriage in which Matos-McGreevey asks McGreevey directly if he is gay and the governor does not answer.
Additionally, the AP reports that another claim made in McGreevey's filing is that Matos-McGreevey "'HAS NEVER SEEN THE PHOTOGRAPH' of the nude male model" reportedly hanging in the ex-governor's bedroom.
So where is the truth? Said McGreevey's lawyer: "She knew before they were married that he was gay. That's part of what the trial will reveal."
The Star-Ledger: "The ex-governor's latest salvo is buried in the middle of a 12-page document that caps an increasingly nasty exchange of motions and counter-motions. The first hearing in the divorce case will be Friday in state Superior Court in Elizabeth. McGreevey said his estranged wife has filed 'malicious, misleading papers' and calls her a 'bitter, vengeful woman.'"
McGreevey: Wife knew I was gay at the start [star-ledger]
McGreevey Says Wife Knew He Was Gay [ap – abc]