The Vatican is really angry that Italy is considering giving rights to gays.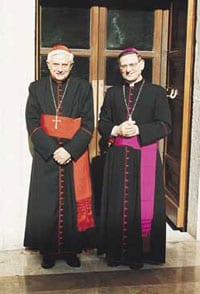 The latest in their litany of condemnations comes from Archbishop Angelo Amato, secretary of the Congregation for the Doctrine of the Faith, who today slammed the media for what the Vatican perceives as abetting social advances it calls "terrorism with a human face":
"In an address to chaplains, Amato said newspapers and television bulletins often seemed like 'a perverse film about evil.' He denounced 'evils that remain almost invisible' because the media presented them as 'expression of human progress.' He listed these as abortion clinics, which he called 'slaughterhouses of human beings,' euthanasia, and 'parliaments of so-called civilized nations where laws contrary to the nature of the human being are being promulgated, such as the approval of marriage between people of the same sex …'"
Amato's comments were a step beyond remarks made by Pope Benedict in mid-March that the church's position on gay marriage was "not negotiable."
More recently, Archbishop Angelo Bagnasco of Genoa compared gay rights to incest and pedophilia. Shortly thereafter the cathedral in Genoa was tagged with graffiti declaring "Shame on you Bagnasco" and the archbishop was placed under police protection.
In March, thousands rallied near the Vatican in support of the Italian gay rights measure causing such a fuss at the Pope's address. A group opposing it is planning a major rally in Rome next month.
You may have missed…
Rome Hosts AquaRomae, 1st International GLBT Swim Tournament [tr]
Archbishop Under Police Guard After Anti-gay Comments [tr]