Reversing an order by former Governor Mitt Romney that blocked the state from officially recording 26 gay marriages by out-of-state couples, Governor Deval Patrick has told the Department of Public Health to put them on the books.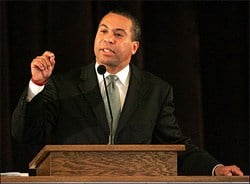 The Boston Globe reports: "Patrick's move emphasizes his administration's sharp differences with his predecessor on gay marriage. The issue is largely symbolic; neither Romney's refusal to record the marriages nor Patrick's reversal of that order affects the legal status of the marriages. But an aide said Patrick wanted to reverse an action taken by Romney that the new administration sees as discriminatory."
Said Patrick's spokesman: "There was no legal basis for separating these certificates in the first place. It appears like the prior administration was politicizing a routine administrative function."
Patrick's decision was criticized by Romney's spokesman, Eric Fehrnstrom: "It was Governor Romney's enforcement of this law that stopped gay marriage from being visited on every other state in the country. Now that Governor Romney is out of office, we are seeing an erosion of the previously strong defense of traditional marriage coming out of the executive branch."
A 1913 law prohibits out of state couples from marrying in Massachusetts if the couple's home state does not recognize the union as legal. In February, Rhode Island Attorney General Patrick Lynch issued a directive indicating that same-sex marriages made in Massachusetts would be recognized in that state.
Arline Isaacson, cochairwoman of the Massachusetts Gay and Lesbian Political Caucus, praised Patrick's decision: "It's very significant, and it is yet one more example of the huge difference between Patrick and Romney. Patrick is dedicated to equalizing the playing field for the gay community and ending all forms of discrimination."
26 Gay Marriages to be Recorded [boston globe]
You may have missed…
Rhode Island to Recognize Massachusetts Gay Marriages [tr]
Judge: Gay Rhode Island Couple can Marry in Massachusetts [tr]